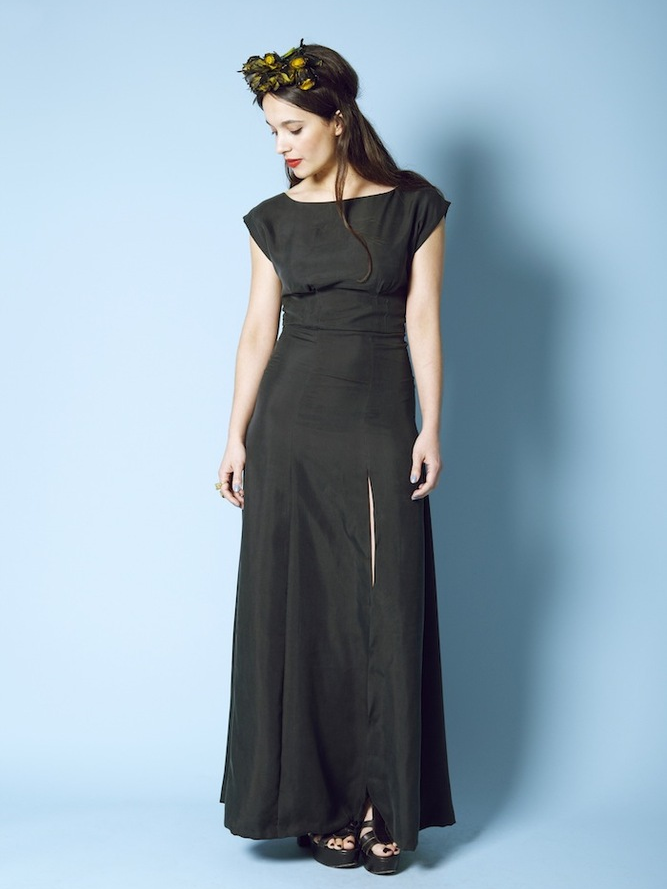 I think it's almost safe to say that Summer is upon us, and now that London Town is finally warming up, my mind has fixed on what I want to be sewing and wearing this season. As ever, I'm trying to keep my to-sew list realistic and efficient (yeah, right) and focus on five key pieces that I will love and wear all Summer long, and indeed for many Summers to come. Here are my top five must-sews for this season, and some pattern suggestions to hopefully point you in the right direction...
The Kimono
Last Summer's festival essential, the kimono is showing no signs of being passé just yet! 
Check out our easy peasy draft-it-yourself kimono tutorial
*
Hack the Buchanan dressing gown pattern from Gather Kits
*
Download Sew Caroline's free kimono pattern
*
Flash a bit of... Shoulder
The off the shoulder trend has proven to be a massive hit, and luckily for us sewists, it's one that is an absolute doddle to recreate at home, no patterns required! 
Our draft-it-yourself off the shoulder sundress tutorial is quick and easy to make, and guaranteed to be an everyday staple this Summer. I for one, am planning to make at least two more...
*
Even quicker to make, and mix & matchable with the rest of your wardrobe is our off the shoulder croptop variation.
*
Or for all the shoulder but less ruffle, try Geneva's raglan style top DIY over at A Pair & A Spare.
*
One fabulous maxi
It's not really Summer until you've swished about a garden party/rooftop cocktail bar/tropical beach in a floor sweeping floral number, right?? Well, maybe only if you're a fashion fantasist like myself, but still - every girl should have one fabulous maxi dress, just in case.
Maybe we're biased, but they don't come much more fabulous than Anna. We dare you cut that thigh high split higher... Keeps your legs cooler ;)
*
Swishy and floaty, Sewaholic's Saltspring dress is both fabulous and forgiving - so no need to hold back on all the Aperol Spritz's!
*
Another trend we'd be glad never to see the back of is 1970s glamour - perfectly encapsulated by Simplicity 8013.
*
Swimwear
One of the holy grails of home sewing - nailing the perfect swimsuit. One tiny little piece of clothing that has to fit and flatter like nothing else you've ever made and epitomise you and your style, all the while working with tricksy fabrics, notions and techniques - it's no surprise sewing swimwear can strike fear into the heart of even the seasoned sewist. But like anything else, it's about jumping right in at the deep end, getting comfortable and finding out what works for you. Here are some of our favourite swimwear sewing patterns:
The pattern that took the sewing blogosphere by storm just a few years ago, Heather Lou's Bombshell swimsuit is straightforward to make, can be hacked into a two-piece and best of all, is so incredibly flattering on everyone I've seen it on.
*
For something more contemporary, and with loads of variation potential, Papercut Patterns' Soma Swimsuit is the one.
*
Another fun and modern pattern with both one and two-piece options is Lily Sage & Co and their Splash Swimsuit.
*
So many options and all of them so chic, I'm super keen to try out Vogue 9192...
*
Peasant chic
Boho is back and we couldn't be happier! Floaty, loose fitting styles in romantic prints and folkloric embroidery is literally all I want on my body right now... Loose braids, Grecian sandals, battered old straw beach bags - you get the picture.
Hack our Zeena Dress into a pretty peasant top, then go nuts with some folkloric embroidery on the yoke!
*
I LOVE a good Mexican-boho vibe, and this square neck peasant blouse by Burdastyle fits the bill.
*
For some truly authentic boho sewing, simply get your Google on and hunt for an original 70s pattern to sew and treasure.
*
Phew! I don't know about you, but I'm in the mood to mix up a batch of mojito ice lollies....
Elisalex de Castro Peake