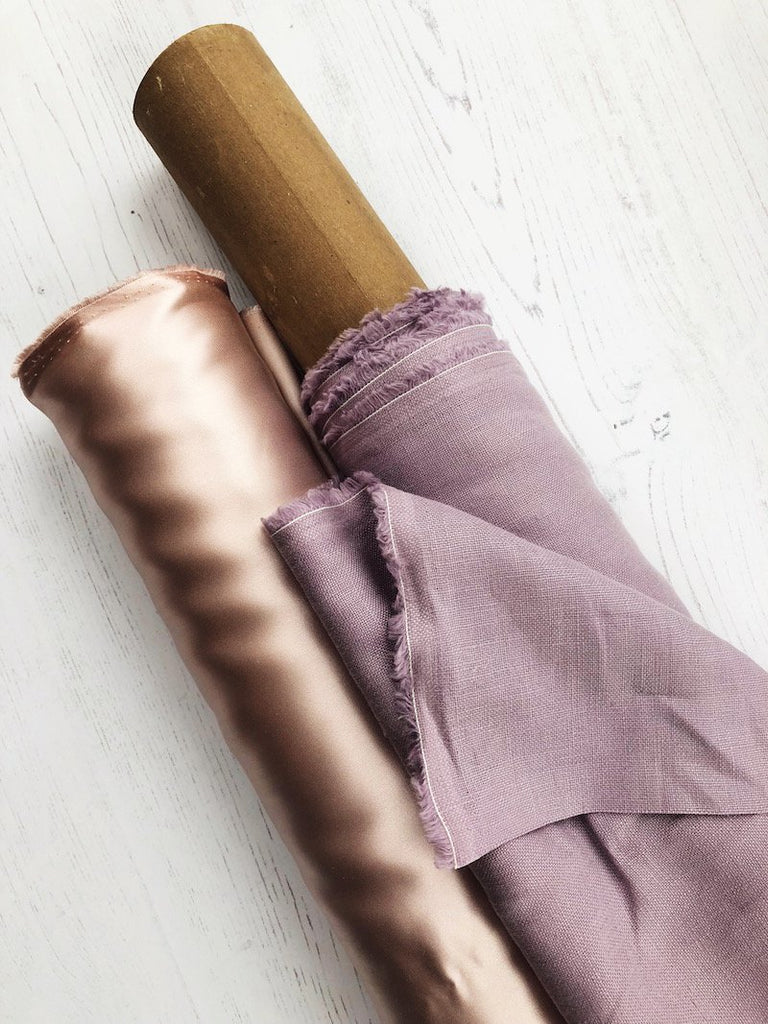 So you're about to make yourself a Rumana Coat. Before we even begin, can we just congratulate you on your courage and sewing prowess?! This is not going to be a walk in the park, but trust us when we say that making a coat is one of the most satisfying and rewarding things you will ever make. Ever. The glory of announcing "Well actually I made it" is elevated to a supreme realm of satisfaction and pride when it comes to coats. Handmade coats give impressive a whole new world of meaning!
As we say in all our sewalongs, it is imperative to consider and take care at every step of the way to ensure a well made, good fitting garment, but we mean it even more for this one!
The goal here is to create a classic coat that you will love and wear for years to come. One that you will be proud to pass down to your daughters. One that even your teenage granddaughter might dig out of her mother's wardrobe one day and impress her friends with her timeless vintage style. That's the dream. And it all starts with fabric choice...
When we were designing the Rumana Coat, we wanted to create a pattern that would never go out of style. No bells or whistles, no nods to the latest season. Something timelessly elegant, tried and true throughout generations of trends coming and going. We were inspired by heritage brands such as MaxMara, Burberry and Jaeger, and after much tweaking and toileing, we couldn't be more happy with the result!
[1. orange coat by J.Crew; 2. brown coat by Jaeger; 3. blush coat by MaxMara; 4. pinstripe coat by MaxMara; 5. camel coat by Jaeger; 6. black coat by Jaeger]
But - and you know how much we love a good hack/adaptation - we also wanted something that could be made for warmer weather too. But how? We played around with a shorter hem length, a second, more frivolous fit variation, but it wasn't until a trip to an Audrey Hepburn auction exhibit at Christie's and one stunning Ralph Lauren white linen coat that the simple solution hit us! Just a simple switch up of fabric choice and you could have a cool, crisp, but devastatingly elegant summer coat.
Main fabrics
The great news about coating fabrics is that they are an absolute joy to sew with. The only tricky part is choosing the right weight, and to help with that we highly recommend you shop in person as opposed to online to begin with. Take an existing coat who's weight and consistency you like, and that way you can compare thickness when you're out choosing fabrics. Bear in mind that when you come to adding the interfacing, structural elements of your Rumana coat, such as the collar, hem and vent will be sharper and less fluid than the rest of your coat, so don't worry if the fabric you fall in love with doesn't seem stable enough to hold a collar.
For the shell of your coat, ideally you want to go for fabrics with as high of a wool content you can afford. Wool is warm, breathable, and has natural antibacterial and antimicrobial properties, meaning that your wool coat will need washing less regularly and will smell fresher than one made from a primarily synthetic fabric. However, a little bit of poly in the mix won't hurt, in fact it will do its part in preventing creasing and helping to ward off the dreaded moths. Ideal coating fabrics include Melton, heavy wool tweeds and boiled wool. Most fabric shops (IRL and online) will have a "coating" section, so don't be afraid to ask when you're out shopping. The best thing you can do it get stuck right in and have a good feel of everything on offer!
Those of you making a more spring/summer appropriate coat, linen is the way to go! We'll be making two new Rumanas (yay!) for this sewalong, one in a dreamy lilac linen from Loving The Fabric, and the other in a gorgeous camel and black check wool blend coating from The Village Haberdashery. With the latter, we will also be showing you how to add belt loops and make a waist tie for a more casual trench-y type coat with no buttons.
Lining fabrics
The main things to consider when choosing your lining fabric is weight and the surface quality. Lining fabric needs to be lightweight so that it doesn't add any extra bulk to your coat, and it needs to have a slippery, shiny surface so that your arms can slide easily in and out of the sleeves.
The next things to consider are fibre, and your budget. Polyester lining fabrics are incredibly easy to find, come in a vast array of colours and are very gentle on the purse strings! However, polyester, being a synthetic fabric, does not breathe very well at all, and as a result it does nothing to help regulate your body temperature when you wear it. This can make you feel hot and bothered when it's warm out, and not as cosy when it's colder. Polyester also does not absorb moisture so when you do get a bit sweaty, that sweat is left to just hang out in your pits getting stinkier as it builds up throughout the day. Can you tell we're not huge fans of poly?! All that said, polyester is a completely acceptable choice for your lining. Don't feel like you have to be swayed by our fabric snobbery!! To its credit, polyester is incredibly durable and doesn't crease, which are both big bonuses. Look for simply "polyester lining".
Natural fibres such as cotton and silk, and even viscose (not technically natural as it's entirely man-made, but from plant based cellulose), are breathable, which means that they wick moisture away from the body as you perspire. This prevents a sweat build up on the skin (so less risk of stinky pits!), and helps to keep your body temperature regulated. Cooler when it's warm/warmer when it's cool. Now, unless you're planning a super luxurious coat to make even the folk at MaxMara drool, we're not necessarily suggesting you line your Rumana in the finest Italian silk charmeuse (but if you do, please show us so we can have a good droooool!). But if you do want to choose natural fibres for your lining, there are more economical options. Acetate is an excellent choice of lining. It is made from cellulose in a similar way to viscose, and has all the shine, drape and breathability of silk, but a price tag closer to that of polyester lining. However, you won't find a huge array of prints available in acetate (mostly just block colours, polka dots, stripes or jaquard textures), so if you're after a more interesting flash of florals or geometrics in your lining, you'll need to go for silk, cotton, silk, viscose challis or voile. The key here is that it's basically just the sleeves that need the slippery surface. You could line the main body of your coat in a light and floaty cotton silk mix, viscose challis or voile (all relatively inexpensive and some really wonderful prints available) and splash out on a plain silk charmeuse or habotai for the sleeves.
Interfacing
Interfacing is an extra layer of fabric that has a heat activated adhesive on one side that, when ironed on to the wrong side of your main fabric, adds some extra structure and stability. Interfacing is usually available in black or white; woven or non-woven. We prefer the woven kind as it handles like cotton and allows the main fabric to retain its natural drape whilst still adding the needed structure. Non-woven interfacing feels a little like paper, and in our opinion can result in a slightly crunchy finish, lacking in natural movement when adhered to the main fabric.
Machine needles
For a project like this, you'll need to use different needles for your main fabric and your lining fabric. If you're going down a more traditional road with a classic wool coating for your shell, you'll need a more heavy duty needle that can cope with heavier fabrics with a tight weave. Size 100/16 is ideal. Make sure you have a fresh pack in case of breakages!
Lightweight, floaty lining fabrics will need a more delicate needle in order to prevent puckering and leaving large holes as you sew. Go for size 70/10 or 75/11 "sharps".
If you've opted for a lighter weight fabric such as linen for your main fabric, you'll be fine with a pack of "universal" machine needles.
Other notions, tools and supplies
Thread, to match both your main fabric and your lining fabric. If you plan on topstitching your seams, make sure you get extra thread to match your main fabric.

Fabric shears or a rotary cutter and mat
Pins
Tape measure to take your measurements
Point turner (optional)
A decorative button (or more if you'd like the option of having more than one)
A buttonhole foot attachment for your machine (not necessary, but extremely useful!)
Next up: We'll be diving right into the nitty gritty in our next post as we explore some common alterations you might need to make your Rumana fit like a dream. In the meantime, happy fabric shopping, and check out this post on how to download and print a PDF sewing pattern!
Elisalex de Castro Peake