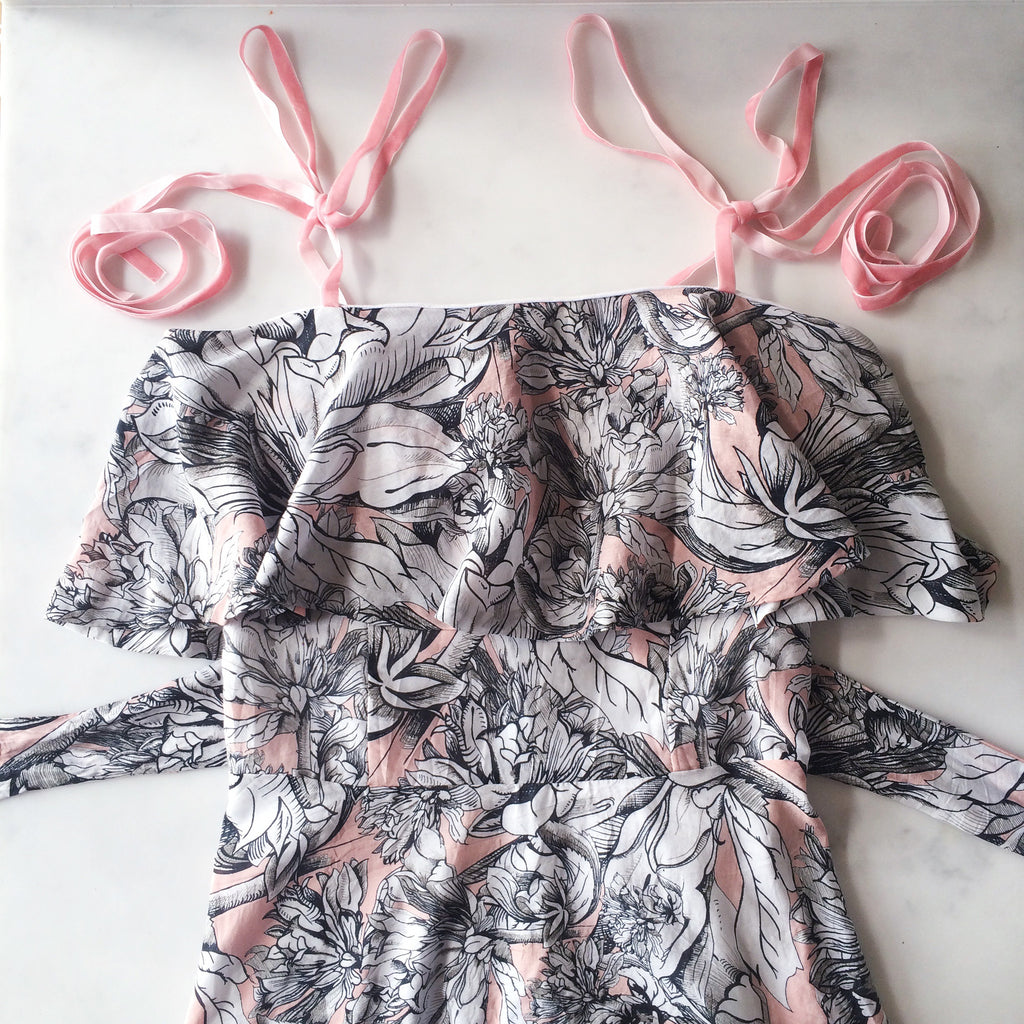 The nice people over at The Fabric Store very kindly got in touch a couple months back to let us take our pick of their scrumptious fabric loot (you can have a read of and a look at what Elisalex made over here). The Fabric Store has an ever-changing roster of designer dress fabrics and sampling lengths from manufacturing runs - which means their stock is often unique, but once it's gone it's really gone so you gotta act fast! 
After much agonising, I chose to go with their Grecian Floral Silk/Cotton - Peach fabric:


Not least because of that absolutely knockout romantic print, but also because it's a cotton-silk mix. I've sewn with this type of fabric a couple of times before and it's just an absolute dream to work with. It's light and airy for some demure flounce, has a lovely light sheen to it which just elevates it from the matte effect of the standard quilting cotton I use most of the time - but still sews up with the ease of cotton. I've had too many disasters of late with slippery fabrics and am staying well away for a while! Probs has a little something to do with my extreme impatience, but that doesn't seem to be going anywhere...  
 So, what to make?! With our latest dress release - the Charlie Dress - about to launch in a few weeks on byhandlondon.com, I thought I ought to really go ahead and revisit that little number. Plus, having just got married to my ultimate partner-in-crime David.....
...... I'm trying to whip myself up a banging Sicilian honeymoon wardrobe in the next few weeks.
The look I was going for, as ever, was based on a foundation of The Sound Of Music, but this time with (hopefully) a sexier, 70s disco-dancing twist to it. 
So, I did a little bit of lightweight pattern hacking - yaaaay!
Original Charlie Dress 
1. I didn't include the neckband. 
2. I didn't include the straps in the pattern, opting for this velvet pink prettiness instead from Bertie's Bows
3. Because the cotton/silk was so see-through I also got my hands on a light and bright white cotton from Minerva Crafts (bought via Amazon)
to use as a full underlining. NB this does of course add quite a bit of time to the dress, as you basically make two.... 
4. I included a full circle skirt at the neckline for proper 70s vibes. To draft it I used step 3 of this tutorial of ours where we add a capelet to the Elisalex Dress bodice  and our circle skirt app for the maths. I then simply basted this baby to the bodice shell and sandwiched it between that and the underlining before sewing together with the normal 5/8 inch seam allowance. 
5. I added waist ties! For this I just drew the pieces on pattern paper first, following the shape and measurements of this Georgia Dress Babydoll pattern hack we did for Valentine's Day a couple years back. These are just sewn into the side seams of your bodice shell, making sure that you sew them in at 5/8 inch up from the waistline edge.
And now for a couple more full length shots.... The awkwardness is real, people! May I just add a little note here to say that I reeeeeeeeally did try with these pix. The reluctant body language and facial expressions do not accurately reflect how much I love the fabric or the dress. To give a little context: it was 7.30am (I literally still had pillow creases on my face), pre-work but making myself late in the process (the only free time I had when it was light) and loads of people walking past on their way to work the whole way through the 'photoshoot' (read: husband armed with iphone) made me feel extra relaxed. Anyway! Here goes...

Full disclosure: Hopefully it's pretty obvious anyways, but just in case, I feel I should point out that the gang over at Fabric Store just gave us free fabric, no $$$$ for our opinions :)))) 
Fabric Store: where you can find them online and offline

Bricks and mortar
New Zealand - Auckland, Wellington, Christchurch and Dunedin
Australia - Brisbane, Sydney and Melbourne
USA - Los Angeles
Online store
http://shop.thefabricstore.co.nz/
NB from their New Zealand online store they ship to: 
Belgium
Denmark
Ireland
Netherlands
Scotland
Norway
Sweden 
Switzerland
New Zealand
Australia
USA 
Germany 
UK
France 
Italy 
Follow them out there 
@wearethefabricstore