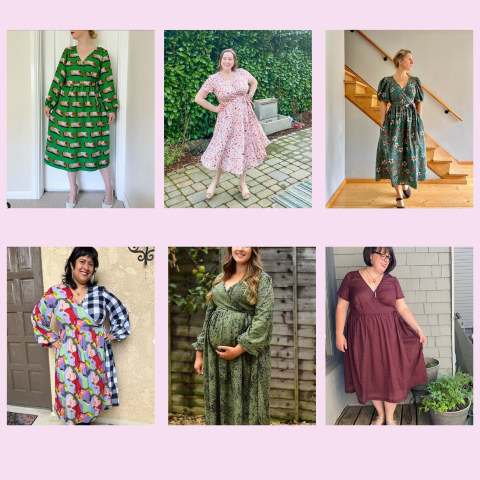 Summer is finally upon us in here in the UK and we cannot wait to start sewing and wearing more beautiful dresses, without having to whack on a pair of tights and a jumper (or two)! So, here at BHL HQ we have decided to make our Hannah Dress and Top pattern our pattern of the month for May, as it is the quintessential easy breezy summer dress. If you don't know this pattern, she has a scoop wrap neckline, a gently gathered skirt and three unique sleeve options. 
Hannah is a firm favourite with the sewing community, there are almost 2500 posts on the #bhlhannah hashtag, so we thought we would celebrate all the beautiful Hannahs that have been made and showcase some to give you a little bit of extra inspiration! 
We are going to kick it off by talking about some sleeve options, the pattern contains three sleeve options - short sleeve, bishop sleeve and tulip sleeve - so let's have a look at them! 
Option 1 - Short Sleeve. @cookinandcraftin
Option 2 - Bishop Sleeve - @emsewhappy using fabric designed by @sewtogrow
Option 3 - Tulip Sleeves @madeby_ramona
If you don't fancy one of the sleeves that we provide in the pattern, you could hack Hannah and add a sleeve of your choice. You could use a sleeve you have from another pattern, or draft one yourself. We particularly love the look of the Hannah with a puff sleeve like below made by @dindinissewing
You can also change up the skirt on Hannah, you could swap the pattern's gathered skirt with a circle skirt for a glamorous look! You can see an example here of a Hannah with a half circle skirt by @putadartinit.
Now, we can't talk sewing inspiration without mentioning fabric choices! We have seen beautiful Hannahs made up in so many different fabric types, we recommend a woven fabric like light to medium weight cottons, linens and viscose, but feel free to experiment! Elisalex made her Hannah out of this gorgeous grey double gauze and it looks so soft and feminine. 
You could even try experimenting with multiple fabric like @jujugalore and @sewingwithsam have here, making one half of the skirt and bodice in one fabric and the other half in a contrasting print! We love how creative you can be with fabric choices, to make truly one-of-a-kind garments. 
Or you could go for a big bold print all in one fabric as @modo.makes has done here! This is a beautiful Dolce & Gabbana designer fabric from Tessuti Fabrics that looks so stunning. 
There is also the option of making Hannah into a top, it is the perfect everyday garment to wear with jeans and trainers or you could glam it up and make it out of a super fancy fabric like sequins which our wonderful Jess has done here (made with matching Holly trousers)!
Finally, Hannah is a great pattern for if you are pregnant or post-partum as it has no rigid fastenings like buttons or zips, jus the ties to make it as loose or tight as you like. Gina from @ginaseams made her Hannah whilst she was pregnant and she didn't size up. However, you may wish to size up or shorten the bodice slightly to allow for more bump room.
You can also see Elisalex's sister Georgia below wearing the Hannah dress in action whilst breast feeding! It really is such a maternity friendly pattern.
We hope that this blog has given you enough sewing inspiration to make some gorgeous Hannahs! As Hannah is our pattern of the month, we are giving you 20% off both the Hannah and Little Hannah patterns with the code LOVEHANNAH, this is valid until 31st May 2023.
Also, please get involved with our Hannah competition running all month, all you need to do is a post a photo of your Hannah (old or new) to Instagram using the hashtag #bhlhannah and you could be in with the chance to win prizes!
Happy Sewing!
Elle for BHL 
x