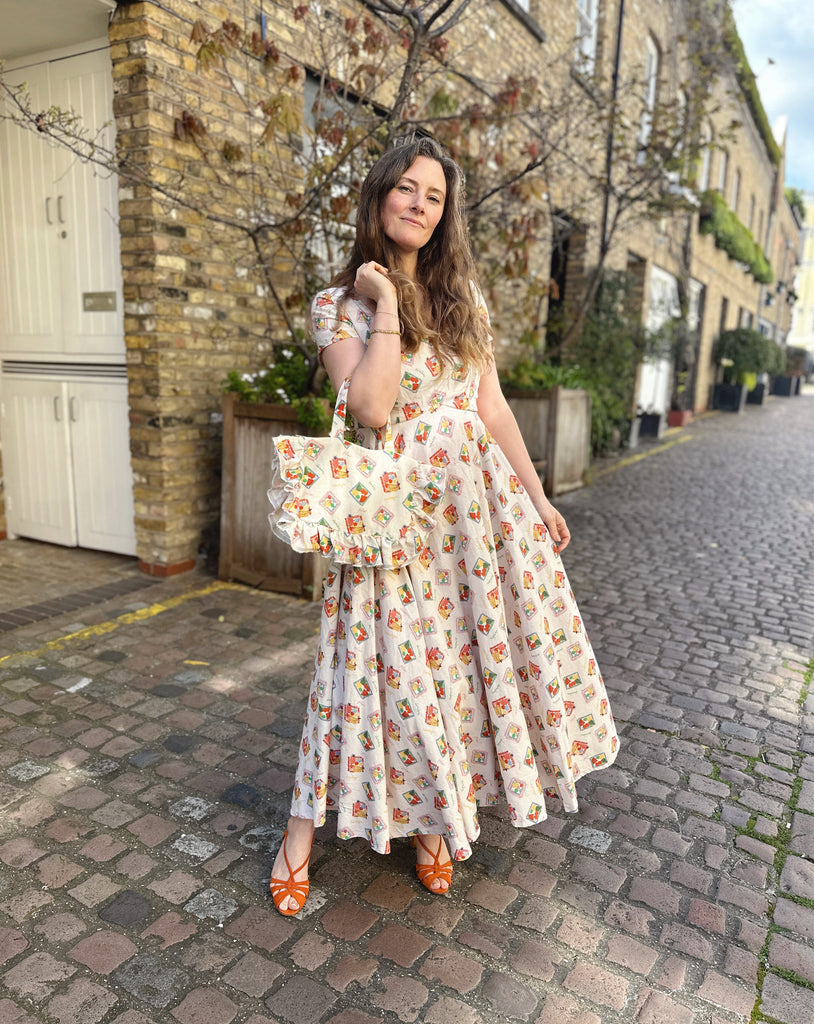 If you happened to swing by London's iconic annual Stitch Festival last month, you may have noticed the Stitch Fest-exclusive soft launch of our latest Draft-it-Yourself pattern among the sea of fabrics, patterns and crafting delights on offer at the show. We are now fully recovered from what was a very intense week (in the best possible way!) and ready to release our new baby to whole wide world!
Introducing... the BHL Draft-It-Yourself Ruffle Bag! This bag is versatile and functional, with a healthy dose of whimsy and playfulness. Meet your new go-to stash busting, quick fix, TNT project! (And best of all, it's 20% off for launch weekend! No need to remember a code, your discount will automatically apply at checkout. Expires Sunday 23rd April 2023 at midnight BST)
In case you missed them the first time around, we launched our BHL DIYs last fall. Instead of a traditional pattern, these are PDF guides that will teach you how to complete the project from drafting the pattern to the final stitch. They are packed with advice on designing your project, ideas to develop it further, and of course the detailed sewing instructions that you expect from By Hand London. The idea is to empower you not only to create, but to really understand how patterns come together, and develop skills that will enrich your sewing practice in general. 
This newest release is a bit of a new direction for BHL. Instead of a twirly party dress, we have a cute bag that is equal parts pretty and practical. As you are drafting the pattern yourself, you can pick the dimensions to suit your needs and style (of course we've included some suggestions too!). The bag features a gusset so there will be plenty of room, it's fully lined as well, giving nice clean finishes on the inside as well as making it a bit more durable. The ruffle is the icing on the cake, making sure that this is no basic bag! 
This project is the ideal palate cleanser if your sew-jo is waning a bit, or a wonderful beginner's project if you're new to sewing - welcome! It would make a great scrap-buster too, which is something we're always looking for. Of course, the hack potential is endless too, and we've included some ideas for taking the design further in our instructions...
Recommended fabrics: medium-heavy woven fabrics are ideal for a structured bag, but you could also interface lightweight fabrics to make them sturdier. Cotton canvas, oilcloth, soft leather, denim, sateen, jacquard, sturdy cottons and linens are all ideal.
For all you need to know, and details as to which fabrics we used for our gorgeous samples, head to the product page here.
Whether you're wanting a matchy-matchy accessory to go with your latest me-made outfit, toting your stuff around town, or packing yours with a book and some snacks for an afternoon in the park, we think the BHL DIY Ruffle Bag is the perfect sew for Spring. We can't wait to see your versions! If you post on Instagram please use the hashtag #bhlRuffleBag and #BHLDIY so we can find you.
Happy sewing!
Elisalex de Castro Peake