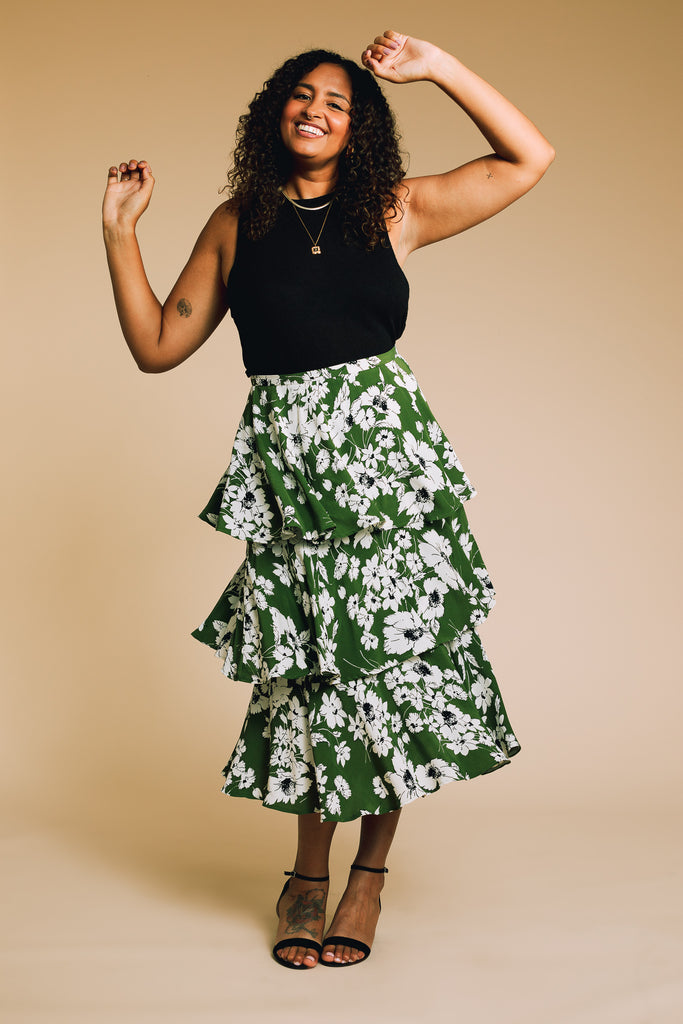 You may have noticed that things have been a bit quiet over at BHL HQ. We've been busy behind the scenes cooking up lots of new exciting things, and one of them is launching this week! We'd like to introduce you to our newest product - BHL Draft it Yourself PDFs. One of our goals at By Hand London is to enable you to level up your sewing practice. We like to incorporate details into our patterns, we have a whole webinar series on fitting and hacking, a Bodice Fitting eBook, and the BHL DIY series is a natural follow on. 
Instead of a traditional pattern that has been drafted to specific sizes and proportions, BHL Draft It Yourself is a beautifully laid out PDF tutorial on how to - you guessed it - draft a pattern yourself. It walks you step-by-step through taking your measurement, determining ease, changing the design, drafting, and sewing your pattern. There are lots of advantages to learning how to draft yourself. 
We love that these are truly size inclusive. BHL DIY allows you to use your own measurements as a starting point rather than someone else's, so this fits every body and shape without restriction. 
Although it's a bit more work up front, another advantage to drafting yourself is that generally you run into fewer fitting problems down the road. For the same reasons as above, starting with your own measurement instead of someone else's means that you're already a lot closer than with a traditional pattern most of the time. Of course, we still always recommend making a toile before cutting into fancy fabric, and you may still need to tweak things, but we've found in general it's a much smoother process. 
The skills you learn in drafting don't stop at this garment either. You can apply them to lots of projects moving forward, including traditional patterns. Once you learn how clothes come together, how to take a list of body measurements and turn them into a twirling garment, it opens up a new world of alterations and customisation. 
Let's get into some specifics. At the beginning of each BHL DIY there is a page that has more information on the pattern and fabric requirements, as well as ideas on how to tweak the pattern further for more looks. Following is a section on taking the relevant measurements, with tips and a space to write your numbers down. Then there's detailed instructions on drafting, both fully written out and in the form of equations. Again, we've included a page to print out and write your numbers and calculations down. Once you've got your pattern on paper, there's some advice on cutting out your fabric and some sample cutting plans. And of course, we have the detailed, illustrated sewing instructions you expect from By Hand London. 
To launch the DIY's we have three beautiful skirts for you. These are all beginner-friendly projects, simple and easy to knock out in a few hours, even if you've never drafted before.
A beautiful sheath skirt with layered circle peplums, because more is always more. We love that this skirt could go from the office to a night out with ease, the shapes are classic but it still feels extremely modern. 
A sweet gathered skirt with pin-tucks all the way down. The geometry of the tucks adds complexity and a bit of edge to the romantic gathers, and gives you endless options for customisation. 
A show-stopping circle wrap skirt with a gathered ruffle hem, which brings drama and movement to any outfit. You can dress it down with a simple vest top, or dress it up with a fancy crop. Whatever you pair it with, we know it will make you want to strut and twirl. 
If you can't decide between the skirts, we also have a bundle of all three skirts available here! The BHL DIY's and the bundle will be on sale until Tuesday November 8th, so be sure to snap them up. We can't wait to see your makes on Instagram under the hashtag #BHLDIY.
By Hand London likes to sit at the intersection of educational and inspiring, and we think our new Draft It Yourself PDFs fit perfectly into that. They are packed full of information to empower you to not only create your own clothing, but also your own patterns and ultimately your own designs.