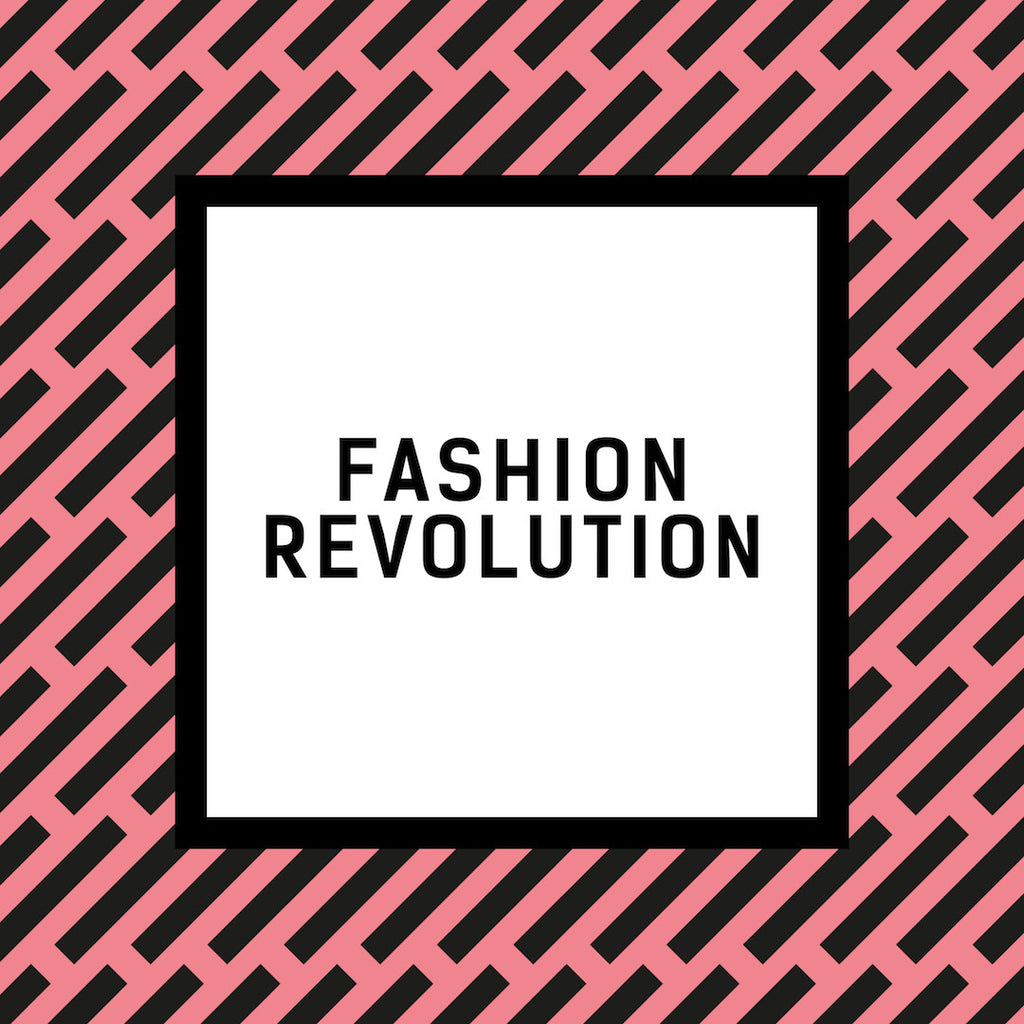 It's that time of year again guys: Fashion Revolution week! For those of you who are new to the movement, it's a global initiative sparked by the 2013 Rana Plaza disaster in Bangladesh, where a clothing factory producing for popular western high street brands collapsed, killing and injuring over 3,500 workers. As is the case around the world, these garment workers were predominantly female. The Fashion Revolution movement is asking us consumers to hold our favourite clothing brands accountable from now on, demanding more transparency and sustainability in their production. 
Fashion Revolution week has a special place in our hearts at BHL, not just because the cofounder Orsola is Elisalex's ma, but also because it makes us extra proud of sewing our own clothes. Not only does it give you control over your style, but chances are  the more you create your own wardrobe, the less you are buying from the high street and it almost goes without saying that you are producing clothing you will treasure and re-wear for years because the materials and fit were all determined by you. 
So, to shout about Fashion revolution and celebrate our sewing hobby altogether, we ran a little competition on instagram: 'Tell us why you started sewing in the first place?'
And the response was overwhelming!! We absolutely loved reading all of your comments and it just reaffirmed our love for sewing and the incredible online and offline community it inspires around the world. Below is the original insta post, a round up of our five winners (we just couldn't narrow it down to one!) as well as a round up of some of our other favourite comments. HUGE thanks to all of you who entered. 
Our five winners
'I started sewing as a form of self-expression and in order cultivate self-love, as the clothes in the shops didn't reflect who i was, and gradually, through every stitch I have learnt to love my self for who i am and what I look like. This achievement is one of my greatest, as a girl of 5ft, with curves that i used to hate, i now understand that we are all beautiful because we are different.'
'To find myself 😊 .. to be able to project the person that I want to be, dressed the way I want to be, with clothes that fit me and suit me. And in the process to enjoy a little bit of dedicated me-time in what is otherwise a busy life running around with lots of different hats on, doing things for lots of different people. I referred to it as putting the "me" in "mummy" because sometimes you lose yourself when you become wife-and-mother, and it can be hard to find yourself again.'
'This is great! I first started making my clothes after doing more research a few years ago on the ethical issues and environmental impacts of many clothing factories. I knew that I didn't want to support that type of unsustainable and exploitative production, so I turned to alternatives such as second hand, made local, fair trade, etc. ... However I soon found that I couldn't always find what I needed/wanted, what fit me, or (as a then highschool student, now a university student) what I could afford (although I do love to support local designers in my area when I can). Sewing has allowed to really cater my wardrobe to my needs and fit 👍 I've learned so much, from what I'm capable of doing myself (yay self sufficiency 💪), to how long it can take to make something (like when I tried to make my prom dress in a few days haha), and all in all it has been a rewarding experience so far that has made me appreciate craftsmanship and the value of labour so much! Happy sewing everyone!! :-D'
'I've only been sewing since September 2016, why would a vegetarian ardent recycler who walks to work make her own clothes? Would it be the impact on the planet? 🌎   Or the ethics of the wages in fast fashion? 💰 Maybe the miles traveled for all the stuff to be shipped from where has the least employment rights and worst pay this month? 🚢 . Or would it be when it gets here it's been made to a price so you have the choice of wash once and cross your fingers or pay so much to get quality that new dress is 1/3 of your mortgage payment? 🏡  Well, errrm 😳  yes but also it's because I really like pretty clothes and I'm tiny, so most things don't fit. So I gave it a go, my first dress had 5m of fabric in the skirt that I slip stitched the hem of, a lapped zip, set in sleeves, collar, self covered 'working' buttons and tailored bodice. So yeah I started simple 😂  but didn't know any better. My friends think I'm mad but I'm less stressed, less anxious and more positive than I ever have been before the sense of achievement is incomparable to anything else. Nothing beats 'where did you get that?' When the answer is 'me!'😸 '
'I'd love to say it's because I'm so offended by fast fashion, which definitely has it faults, but really it just started as a creative outlet. However, it did quickly morph into something to do to get clothes to fit me. With a sway back, full hips, relatively smaller bust, and not much of a waist, clothes don't fit me well off the racks. Occasionally I find loose woven tops that are fine but on the whole, especially jeans and bottoms in general, are a nightmare. I have to belt everything to keep my pants up but can't size down side other wise they don't fit up my thighs and butt. Now, sewing is my outlet, my happy place, my creative space, my necessity, and kind of my addiction 😬 .'
And our runner up, because she made us smile :) 
I wanted pants that fit! Still haven't made pants...
There were obviously many more great stories and, going through all of your wonderful comments we also noticed some common themes emerging behind your sewing motivations: 
Because you were after style and/or fit 
'I started sewing my own clothes because I found fashion had become so commercialised; everyone started to look and dress the same. I wanted my clothes to have more individuality to them by exploring with different cuts and textures. Sewing your own clothes is also extremely rewarding and provides you with a great deal of confidence. I love recycling existing pieces of clothing and red modelling the into something new! 😊 '
@1000hoursofsewing 

'I started to sew because clothing didn't fit me well after having 2 babies. It had changed my whole opinion about my body shape and shown me that bodies can be beautiful when clothing fits well.'
I want to sew my own clothes so I can feel the confidence you get from looking your best. I want to be comfortable in my skin all the time. I want to get the best for my money. I don't want to be like everyone else. Individuality and innovation matters to me, and making my own clothes means I can do it.
Because it was cheaper
'As a young teen I couldn't afford to buy what I wanted to wear. I started sewing and found I was good at it - then there was no stopping me. I think I've made everything except underwear, there's still time for that.'
Because it's more sustainable 
'Hi :) so happy you re supporting fashrev!! i have been sewing and refashioning from ever since i could play with my mum's sewing machine.But our move to hong kong is really what made me decide to make all my family's clothes. Hong kong being on the doorstep of the factory of the world we could not ignore the devastating impact of fast fashion on the environment. Living next to a fast fashion outlet mall full of compulsive shoppers was the cherry on top of the cake 😅 so i decided to very slowly start making all my clothes, my husband's and now my daughter's.it is challenging but we love being able to choose our models, fabrics and say f**k to the flawded fast fashion system 💪 we still need to buy fabrics (love fabrics so much) but at least we control the "production line" 🙌 xx'
'My life in sewing has been a complete accident. When I was a teenager I was all Jack Wills and fake pearls and popped collars, because I had a good Saturday job that could this wanna be From The Manor Born lewk. When the recession hit, I lost my job (woe is me 😥) - but like, I still like totally needed something new to like, wear to parties?!? I ended up rummaging in charity shops to get my fashion fix, where I'd find mad things I LOVED but were just too big. A hack of the scissors here, a basting stitch there, and voila, a cheap dress ready to go. Eventually I started doing more and more alterations, until my friend's Nan saw one of my hems and was so horrified gave me her 1970's singer 😂❤️ still going strong today, churning out clothes. And learning to sew has changed a lot of things for me - I haven't bought anything brand new for 7 months, I've learnt about sustainability, ended up a vegetarian (the horror!) and now I'm trying a zero waste life style. What a happy accident its been though 🌍💙💚  '
Because it's your ultimate creative outlet 
I've only started to sew whole garment last year. After spending the whole day at the computer, I need a creative outlet: cooking, baking, crochet,...and now sewing. I love to be able to make unique pieces that fit me. I get loads of compliments, which is a plus ;) For that I have to thank the amazing online community that write great tutorials, create amazing patterns and provide so much inspiration! Seeing my dresses and skirts also motivated some of my friends to start sewing themselves, we just had a skirt workshop which was a lot of fun!
'I always had a very particular idea of a garment I want but can almost never find it in the shops (definitely not on my budget anyway! 💸). Sewing allows me to make something with the exact style/fabric/details I had dreamt up in my head. It started mostly as a creative outlet, then to save money on formal outfits while I was at university. Now it's become a less economical habit as I probably spend more money on fabric than anything else 😂 . '
Because it helps you cope with physical or mental illness 
'In the last 2 and a half years I have had two beautiful children but I have also suffered PND. Teaching myself to sew has given me the chance to take time for myself, to exercise my brain doing something other than watching CBeebies or playing with blocks 😄. It has allowed me the space to remember I am Elly and not only mummy. I'm not recovered yet but when I do get there I know will owe a large part of my success to teaching myself how to sew, gaining confidence through it and clothing my drastically altered body to boot. 👗👖👩‍👧‍👦 '
'I got ill 7 years ago. I stopped being able to do my job. Work had been my identity, my passion and my great love. My Mum suggested I take a sewing course. I fell in love with sewing straight away. I still miss my job but sewing gave me a new lease on life; a realisation that life is always changing and that you have to change with it. Through sewing I feel like I have meaning and can still contribute.'
...and a special shout out to all the mamas and grandmamas out there who got you started! 
'I literally fell into making my own clothes, my nana used to sew parachutes in the war and steal the silk to make herself knickers :) and my mum was a machinist all her life, so I've grown up with sewing and homemade clothes fit and feel better and no one else will ever have the same outfit as you 😊 '
'I knew how to sew from both my grandmothers teaching me when I was very young, but when high school rolled around I wanted to connect with my grandma more. She was the only one in my family that sewed garments, so she was my guidance and support system. I still send her photos of my makes because I know she's proud of what she's taught me to create.'
'My grandmother, a seamstress, and my mother taught me to sew. I started with bed linen for my dolls and by high school was sewing most of my clothes. I love the I individuality, the correct fit and the satisfaction of having made something yourself. I love the wonderful sewing community and all the fabulous inspiration to create. And I'm still using fabrics from my grandma's stash to sew clothes.'
Thanks again to all who took the time to respond. Sewists, you are the BEST! 
xx